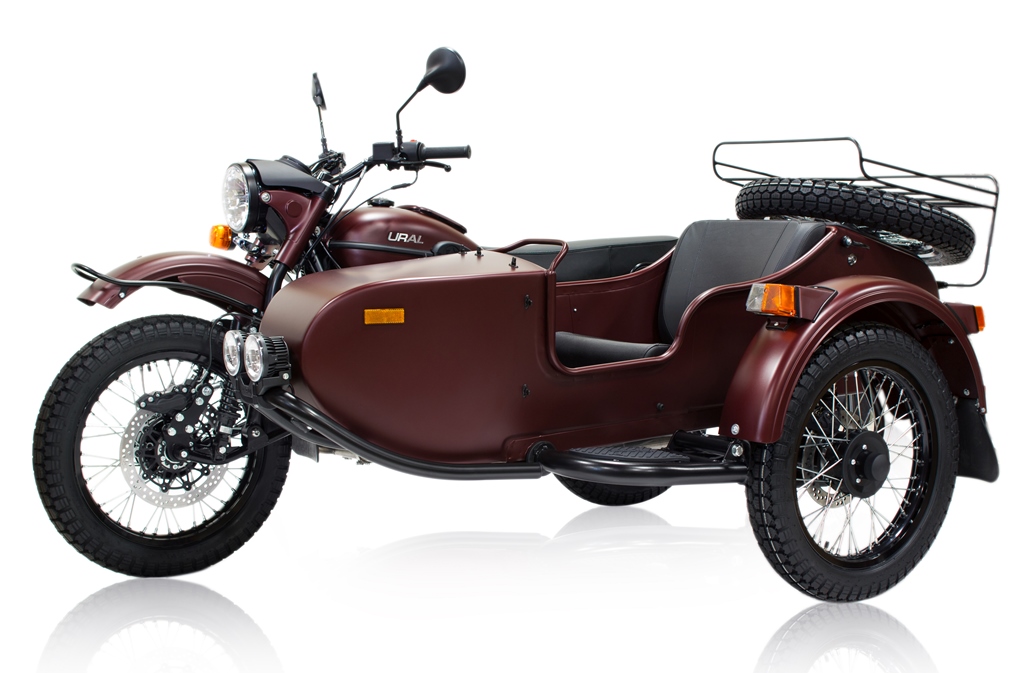 Make: Ural
Year: 2018/2019
Model: Ranger
Engine Capacity: 750cc
The all new 2018 models are now in stock! They have standard features across the board such as blacked out engine, all new instrument panel and new Custom Paint Options including Burgundy Satin, Slate Grey and Olive Drab Green and Sahara Custom.
This Ural Ranger is one of the best modern sidecar bikes on the market, all the comfort and features of a modern road bike combined with the rugged, hard-wearing construction you need to get you and your gear where you're going all at the right price.

Some standard features of the Ranger include electronic fuel injection - an upgrade over the previous iterations which were fitted with carburetors, hydraulic steering damper and three wheel disc brakes. The unit generates a maximum output of 41 hp at 5500 rpm and 42 at 4300 rpm. Other modifications made for 2016 include a redesigned front engine cover and a new wire harness. The 2016 Ranger is also fitted with a redesigned dashboard which now displays a fuel level warning and engine management indicator lamps.

The Ranger model comes standard with a long list of accessories such as a luggage rack, spare wheel, shovel, spotlight, leg shields, a jerry can and more. These extra features will surely come in handy if you taking the ranger where it's designed to go. It comes in 4 distinct colours: Asphalt Grey Sage Green, Forest Fog and the Sahara Custom, which is equipped with even more accessories.

The Ranger also comes in 3 distinct upgraded models the Sportsman and the Sahara that come with their own set of extras on top of the standard array of features as well as their own custom, limited edition paint schemes that help to set them apart from the standard models.

No matter where you're going and what you need to take the Ranger will have all your needs covered in style.
starting from
$24,970
+ all on road costs

bumper
We can customise exhaust with a number of different shapes that give your Mercury a unique sound. Wrapping also amplifies the decibel output of the exhaust and can be tailored to suit the look of your motorcycle ensuring there's not another out there like yours.

fog lights
We can customise exhaust with a number of different shapes that give your Mercury a unique sound. Wrapping also amplifies the decibel output of the exhaust and can be tailored to suit the look of your motorcycle

custom paint
We can customise exhaust with a number of different shapes that give your Mercury a unique sound. Wrapping also amplifies the decibel output of the exhaust and can be tailored to suit the look of your motorcycle ensuring there's not another out there like yours. and can be tailored to suit the look of your motorcycle ensuring there's not another out
Make An Enquiry
02 9698 4433 - info@gasoline.com.au