It's often said that Imitation is the highest form of flattery, and by the looks of this Sportster - I think it is pretty safe to say that our Jack Daniels custom build definitely had an impact on at least one customer who came to Gasoline just as we were nearing the completion of The Jack Daniels Forty-Eight and fell in love so quickly that it was only a short time later that Gasoline had already sourced a donor vehicle and had orders underway for a build with aesthetically similar qualities. This build will eventually be completed in stages with the first additions being the clip-on bars, rear-sets, RSD exhaust, side mount speedo/licence plate and all new leather seat. The following stages of this build will see a new set of Firestone Champion Deluxe, some new indicators and maybe even some custom graphics. Stay tuned.
Jack Daniels Forty-Eight
In the later months of 2015, Gasoline Motor Co was approached by Jack Daniel's Australia with a desire to build a distinctive Harley-Davidson to suit the cafe racer movement. Now, any fan of either Harley-Davidson or Jack Daniels will be able to tell you that this is certainly not the first time the two entities have joined forces let alone the creation of a custom motorcycle, thus creating quite a conundrum for Gasoline Custom Motorcycles - a group that refuses to imitate, do things by halves or submit to the realms of socially dictated norms thus the team at Gasoline were captivated to venture into the often controversial world of hybrid cafe racer Harley-Davidson culture.
Obviously not the first mash-up of its kind, heck, Harley-Davidson even manufactured its own cafe racer known as the XLCR in the late 70's (to little popularity) but with the resurgence of racer culture and all of the associated cliches, Gasoline decided to have a go at making something strangely familiar on the ever trusty 1200 Forty-Eight sportster.
Roland Sands Designs offer a plethora of high quality after market parts for Harley-Davidsons and they certainly came through with the goods on this build by supplying some racetrack driven rearsets giving this sportster a super aggressive foot position, clip on handle bars "mounted as low as they go", a tuck'n'roll solo bob job single seat (re-tanned in house from brown to black) and the pièce de résistance - An anodised black velocity stack air intake which has been grilled to the eye balls, with the famous two-into-one tracker-style exhaust wrapped lovingly in meters of high-temperature insulation.
Furthering to these purpose built bolt on modifications, this Sportster had its tank lifted two and a half inches, stripped back to raw steel and slapped with some custom Jack Daniels inspired vinyls designed in-house. The racer theme continues with an American-style side mounted license plate and low slung speedo the two of which fully custom fabricated and engineered to allow visibility whilst retaining a sleek custom appearance. Completing the retro cafe aesthetic is an enormous set of Firestone champion deluxe rubbers straight from the US of A. Although this Harley-Davidson remains more or less internally standard, the increased airflow thanks to the RSD high flow high performance exhaust and velocity stack intake tuned to perfection give the 73 cubic inch engine plenty of power. In accordance with the increased output, the brakes have been given some extra stopping authority with a significant adjustment and all new custom brake fluid lines and actuating bracket.
With a total build time of around three months, the amount of care, craftsmanship and attention to detail poured into this custom motorcycle has certainly pushed it into a class of its own. Featuring both old and new school design influences this Harley-Davidson is a standout in any setting and certainly turned quite a few heads whilst getting some shots taken with much thanks to the The Rocks Brewery for the use of their cool facility.
Custom CB250
"LaSombra" Custom Yamaha SR400
Once a cool little classic bike that may have been noticed by a handful of die hard enthusiasts the Kawasaki Z200 was transformed into a clean modern Cafe racer machine that now turns more than just heads.
As all custom builds start off in the workshop, Gasoline Motor Co's customer came to get some new tires and the chain and sprockets replaced but was opened up to a world of ideas and creativity on the workbench in the new Alexandria shop. The motorcycle was stripped down to its bare bones, rims and frame sent off for a gloss black finish. All of the internals ripped out, battery and electrics relocated into a cleverly fabricated stealth box under the seat. The rear guard was shortened and tidied up with some sleek indicators and rear sets while the front guard was traditionally removed for that bad boy feel. After several false starts on the fuel tank color which was professionally painted emerald green then orange, the end result ended up an inspiration from the Gasoline team into this striking bronze and black color scheme that came alive over a few collies in the workshop. Whilst the motorcycle was starting to show some character we suggested a nick name which evolved in the "SPINNA" a hand drawn design, placed on the tanks side. The meaning of the work came from the owners X Girlfriend who apparently was a bit of a typical X HEAD SPINNA. We then matched colors with a Retro driven headlight which was sourced in-house and its rim color matched to the tank, along with the obvious clip on bars, a smaller speedometre and to top it off a custom upholstered seat which was laid down for the final touch.
Shortly after finishing the build, a mate of ours who is in the demolition business tipped us off that there was a falling down ware house around the corner that was damaged in the recent Hail Storms in Alexandria and in no time Gasoline photographer Nich Zalmpy and Jason Gasoline pounced over there shooting the final product that is now know as "SPINNA" by Gasoline Motor co.
Photos: Nich Zalmpy.
For more info on this build and potentially something you want us to produce for you. Contact Gasoline Motor Cowww.gasoline.com.au - 02 9698 44 33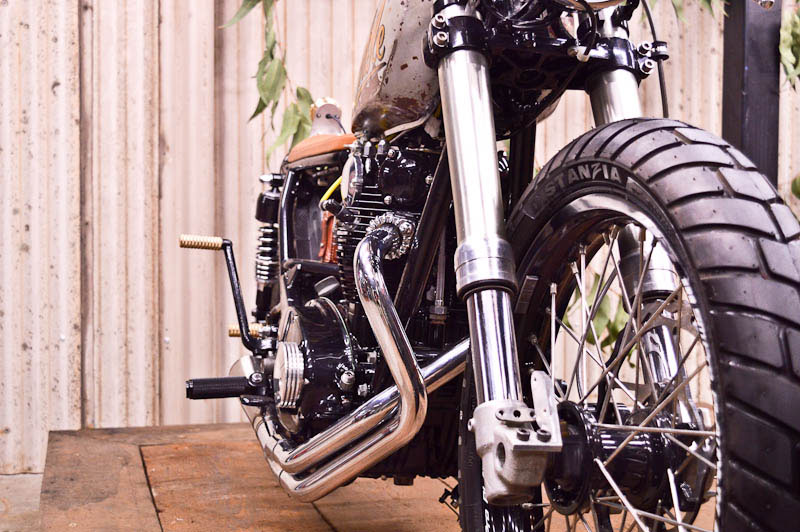 Bringing together some of the most professional and experienced metal fabricators, painters and artists in the country to transform and create this immaculate BMW Cafe Racer. Built around its original four stroke, two cylinder horizontally opposed boxer 800cc Engine, the frame has undergone a copper dipped process and its tank masterfully painted along with its metal fabricated rear end. All its mechanical components got some very special attention to ensure it was running beyond optimal performance and looking even better. As a finishing touch to the beautiful machine Artist Neo Dutch and also cousin of Von Dutch skill fully engraved a Japanese inspired design on both the fuel cap and triple tree.
A jigsaw puzzle of hands to finish this machine, Strategic assembly and a fuck load of thought...
REBELLION CUSTOM BRAAAP MERCURY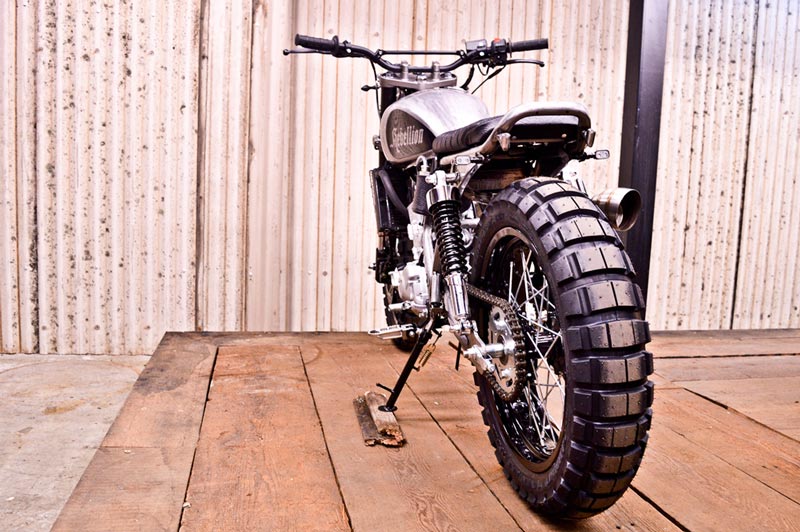 The long awaited Rebellion has been finished and revealed at this years Throttle Roll. Built for the purpose of breaking all the rules using our method of industrial crafted and raw steel finishings, this Machine now rides like a rebel. Just an example of what you can do to a Braaap Mercury.
Custom Suzuki 650 Eternity
Customer named Eternity is the latest Custom build by Gasoline. Starting with a fair condition Suzuki LS650 the bike was stripped down, cleaned up and the build began. Whilst not spoiling the integrity of the original bike a cafe style was implemented featuring everything to the finer detail. The LS is one of the few belt driven bikes that can adapt a cafe racer look and finishing result is definitely a meaner, cleaner version of its former self.
BRAAAP MERCURY CUSTOM BUILD
HONDA FT500 BY GASOLINE MOTOR CO Feature on Silodrome
The Honda FT500 was released in the early 1980s with a strong focus on American flat track racing (the "FT" in the name was a reference to this), it was fitted with the same 499cc single cylinder engine as the almost bullet-proof Honda XR500 enduro bike – with the addition of cast aluminium wheels, an integrated tank/seat/tail, and disc brakes with dual piston calipers.
With 35hp at the rear wheel, torque at 28.9 ft-lbs and a dry weight of 370lbs, the FT500 was well positioned as a mid-range motorcycle for those who didn't want a 250 but couldn't quite afford a fully-fledged flat track bike. Despite this, the FT500 wasn't a big seller in the USA, Europe or its native Japan.
Some thought this was due to the slightly clunky appearance and some thought it was down to the minor mechanical quibbles that most new owners needed to fix – primarily the rear bearing of the starter pinion. Owners who stuck with the bike often became evangelists for the model but as is often the case in the world of motorcycles, a bad reputation is quickly gained and slowly lost.
Surviving FT500s are getting harder and harder to come by, and the surging popularity of mid-size single cylinder engines like the Yamaha SR400/SR500 has lead to the Honda seeing a renaissance for the almost forgotten 500cc thumper from the age of disco synth.
When Jason Gasoline was looking for a suitable candidate for his Mrs' daily rider he came across a Honda FT500 that had been imported to Australia from its home country. The appeal of the bike's simplicity coupled with its relatively rare status sealed the deal and he rolled the new acquisition into the Gasoline Motor Co.headquarters to begin work.
As with all of his builds, this one began with a full tear down and inspection. The original airbox and seat were discarded along with the handlebars, gauges, fenders, exhaust and rear suspension. The goal was to create a motorcycle suitable for urban use by a lady, so weight needed to be kept to a minimum and manoeuvrability was favoured over all-out speed.
In order to maximise stopping power Jason had a local Australian brake specialist create a pair of matching drilled disc rotors – a pair of matching Coker Classic Diamond Tread Tires were fitted front and back, and a set of matching diamond-pattern grips were sourced to match.
The seat pan and rear cowl were fabricated in-house at Gasoline, with the diamond pattern upholstery outsourced to a local expert in leather motorcycle seats. It was decided that the original cast aluminium wheels would be kept in place after receiving the same black finish as the frame, silencer and engine.
Perhaps the single most notable feature on this bike, dubbed "Golddigger" by its new owner, is the inverted left/right paint scheme. Viewed from the right side the bike is gold with black details, and from the left side its black with gold details. It's a unique idea that we haven't seen implemented before, but I wouldn't be surprised to see it become a lot more common once the Golddigger is seen far and wide.
If you'd like to see more from Jason and the Gasoline Motor Co. you can click here to view the site or for More from Silodrome click here.
Images via Heleana Genaus @ In Venus Veritas
Gasoline Custom Yamaha SR400 - Tomahawk II
The Tomahawk II has received massive exposure and recognition throughout the custom motorcycle industry, on a National and International scale. It was on the front cover of JUST BIKES and was the main feature story in JUST BIKES' September, 2014 Edition.
It has been showcased at Throttle Roll in 2014, and has recently been shipped to its proud new owner in France.
Feel free to shoot us an email if you want us to custom build a Tomahawk III for you :)
info@gasoline.com.au
THE BUILD PROCESS AT GASOLINE MOTOR CO:
We have found in previous experience that people can find it a daunting prospect commissioning a custom motorcycle build, it really shouldn't be. When organised and coordinated properly we feel you should enjoy the designing and conceptual stages of the bike being built as much as riding it. It's an intricate job requiring experience in a broad spectrum of skill sets, which is quite fortunate that all of which have been mastered by the Gasoline Motor Co team.
Outlined below are the 3 main steps of building a custom motorcycle with Gasoline Motor Co.
Step 1: Send us over as much information regarding the build as possible. Google can be a great source of information and images to convey your desired outcome. Feeling creative, why not draw us your vision.
Step 2: We will evaluate the information you have provided and identify any areas which could potentially be problematic and suggest solutions.
Step 3: Once all parties are happy and a deposit has been made the build process can begin. You will receive regular feedback and updates during the entirety of the build.
Additional things to have a think:
YOU Tell us why you want a custom motorcycle? What you intend to use it for? How often it will be used? Where will it be used i.e mainly city or country or both? Are you mechanically minded? Do you enjoy tinkering? This gives us a better understanding of the projected life of the motorcycles and will influence our recommendations for certain components and elements of the machine,
BUDGET & TIMEFRAME Letting us know approximately what you're looking to spend and the time in which the build will take place will once again influence our recommendations and dictate possibilities.
POTENTIAL DONOR MOTORCYCLES Keeping the style of motorcycle in mind, look at candidates based on how old you want the motor to look, how reliable it needs to be, the maintainability of it and the usability of it, how attainable it is. Usually we can help you with this once the first 2 steps have been taken and we have a rough idea on budget.
Gasoline can source you a base model for you to work with if you are interested in a custom motorcycle build.
Interested in a Gasoline Custom?
Want us to build A motorcycle for you?
Call Us:
+612 9698 4433
OR 1300GASOLINE